By Writer/Director Isa Totah

I wrote America when I was a teenager. I sketched the story in my mind minutes after I had seen Diner, Barry Levinson's first film. Diner reminded me of hanging out with my friends at Villa Romana Pizzeria. We would sit every night, talking about girls and making our mark in the world over a large pepperoni and mushroom pizza. Ironically the man who produced Diner, Mark Johnson, is now producing America.

I also wrote America when I was four and the neighborhood kids were doing the kid thing — teasing me and my brother about our Arabic accents and demanding that we "go back to where we came from." Back then, I ached to belong — to be accepted by my peers — an ache that never fully went away.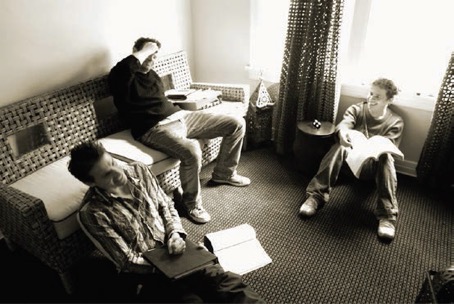 And I wrote it in Mrs. Cajanouri's fifth grade class at Columbus Elementary School. We had just seen a film about Arabs — they lived in tents, were illiterate and had bad teeth. By the time the lights came on, I had shrunk so low in my seat, my head was barely above the desk that my chair was attached to. Sensing my embarrassment, Mrs. Cajanouri explained to the class that most Arabs lived in modern cities and were no different than the children in our class. I straightened myself in my desk as she winked at me. "My husband is from Lebanon," she whispered and I smiled from inside.

Or during my "political" period when I became president of the local chapter of the American-Arab Anti-Discrimination Committee. We'd go to political rallies and write letters to Hollywood producers politely asking them to occasionally depict Arabs who were not megalomaniacs or misogynists. And, occasionally, we would strike a chord like when the Smurfs creators responded with a story about an Arab princess. But the vast majority of the time, our letters fell on deaf ears as Dr. Jack Shaheen's book Reel Bad Arabs documents all too well.

And I wrote it during a surreal moment of watching the 49ers win the Super Bowl on the day of my father's funeral; and when my uncle Abe got shot by a robber; and when mom accidentally pulled a fire alarm and we hid as the fire trucks rounded the corner. There are countless moments from my childhood that formed America — too many to go through.

And each time, I imagined a film that just opened a window into my colorful extended family without preaching or pontificating. I would tell myself that one day, I'll make a movie, one day… And that day has come.

I'm sure that growing up as a first generation Arab-American is no different than growing up as a first generation Irish-American or an Italian-American or Chinese-American, or any other American. Each of us took a turn as the new-kids-on-the-block and each of us endured the initiation before we passed the baton to the next group.

I always felt that America was an American story first and an Arab story second, in the same way that Saturday Night Fever and Diner are not Italian or Jewish stories per se. It's the story of finding your voice in a cacophony of voices. It's a universal story that happens to be told through the eyes of Arab-Americans.

I chose a mix of humor and drama to tell the tale because I've always felt that to be an irresistible combination. Humor disarms and allows an audience to embrace the characters, to even "become" them.
That's the theory, at least.

And I wanted it to be truthful — not whitewash the dirty laundry. And more than anything, I wanted it to be entertaining. It had to take the audience on a ride. Yes, beneath the humor and story is a message — a simple, "hey, we're not so different than you." But it's left for the audience to discover by putting forth an un-sanitized view of my extended family.

It's safe to say that Arabs are one of the most misunderstood people in the world today. And much of the strife on this planet involves Arabs. No need to list all the conflicts, just turn on the news. It's my belief that there's a correlation between war and a lack of understanding. My hope is America sheds some light into the arena.

Indeed, I am an Arab-American. But I genuinely believe that dispelling stereotypes about one group will benefit all groups. If we sanction the violation of civil rights of one ethnicity, then everyone is in danger.

America is meant to be entertaining. It's meant to be funny. It's meant to take the audience on a ride they will enjoy. And it's meant to shine a light on Arabs in the hope it will shine a small light on all of us.


About Isa Totah

Isa Totah is a multiple award winning writer
and director. His plays have been performed
all over the world before tens of thousands.
His first play, a collaboration of Israeli and
Palestinian artists, Seeing Double, was a
groundbreaking farce about the Palestinian-
Israeli conflict that drew rave reviews
throughout the United States and won the
prestigious OBIE Award in New York
"
This is a chance to give a voice to a vibrant and thriving part of our country that is still little understood by most Americans. Many films that explore foreign cultures become caught up in how we differ from them, but this film shows how much we all have in common."

Mark Johnson — Producer
Breaking Bad, Rainman, Bugsy, The Notebook,